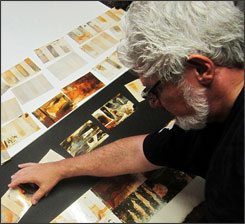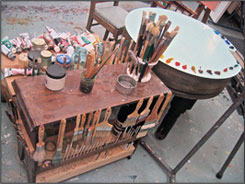 "My work is a personal dialogue between me and the canvas. It is experiential. It is largely about surface and texture and color. It has been filled with calligraphic imagery since I first began painting. It is always about the moment, my inability to abandon a horizon, edges, mark making, accidents, discoveries and wrestling with the image to help it find its way out. Process is a big part of my paintings, which I carve and scratch at until finally, they are abandoned.
I am forever grateful to David Ford Cody (1937-2012) for his mentoring, teaching, midnight critiques and endless support. He and the late Joseph V. Canzani pointed the way, helping me discover my own semblance of design and expression through painting."
Steve Caler received his BFA from Columbus College of Art and Design, where he studied illustration until finally discovering painting. Born in Springfield, Missouri in 1954, Caler has seen 44 of the 50 states and has resided in 7 of them. He traveled extensively throughout Europe, Canada, South America and most recently, Africa. A lengthy tour of Europe enabled him to travel throughout 11 countries and study art as far north as Finland and as far south as Crete.
He has been heavily influenced by the work of abstract expressionist American painters. While living in New York City, he studied at The Art Students League, The Art Institute of New York, and the School of Visual Arts. Caler spent much time in SoHo's avante garde galleries as well as the Whitney Museum of American Art, The Museum of Modern Art, Metropolitan Museum of Art and the Guggenheim Museum.
Caler has exhibited his work throughout the Midwest. He currently resides in Akron, Ohio with his wife, Doreen and two sons, Ben and Sam.
A special thanks to Doreen Vanchoff, J.D Eaton, Hercules Platts III and Michael Terry for their significant contributions to the development of this Web site. All were instrumental in the support, selection, preparation and presentation of art throughout this site.